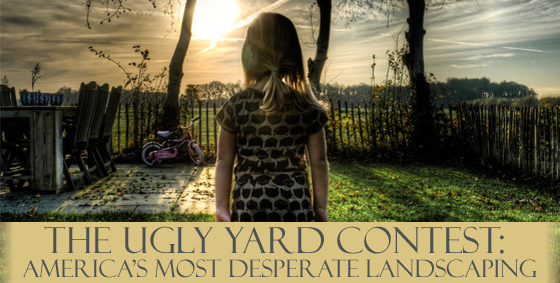 Want to give your yard a Face lift? Now's your chance!

Introducing…

Here's how you enter:

Send us a picture of your "Ugly Yard" on
Our Landscaping Specialist will give you specific advice to help improve it.

Advice will be published over on our

blog

.

One lucky winner will be chosen the first week of September to get their very own free box of landscape edging.
MAKE THIS THE YEAR YOUR YARD GETS A MAKEOVER!
Here's our first contest entry!
Linda Whaley, here is your free landscaping advice!
My yard needs a major face lift Help us with our yard please! #TheUYC pic.twitter.com/oPlPCVLQiN

— Linda Whaley (@shihtzumami) May 15, 2017

I love your beautiful swimming pool! You have some nice elements now and with a few changes, your yard will be stunning.
Pave the concrete around the pool with a neutral, warm colored paver. Use paver edging to keep the pavers/stone in place. Remove the grass from the flower beds, add organic fertilizer and top with a 2" layer of pebble mulch to conserve water.
The unfinished corner (above) is a good location for a BBQ area. Move the palm tree and shrub to another area where they have plenty of room (possibly by the blue fence). Pave the area with bricks and mortar, aim for a flat, even surface. Place the BBQ, a small table and some chairs here.
Install a pergola over the new BBQ area and along the entire length of the street side wall including the opposite seating area. This gives you shade and a secluded place to sit. Create small flower beds and grow climbing plants up the pergola, avoid anything with thorns. Install garden edging around the beds, helpful because it keeps soil and mulch in place. Consult your local garden center for ideas about what to plant, bringing your photo would be helpful.
You have a lot of cream-colored wall space. There's a couple of options to make it more attractive. Put trellis on the wall and grow climbing plants, add wall sculptures, a tiled design or paint the walls different colors (go for fresh, clear, beach colors, nothing too dark)
Finally, conceal the pump equipment behind removable wood panels, add attractive light fixtures and large pots of flowering plants.