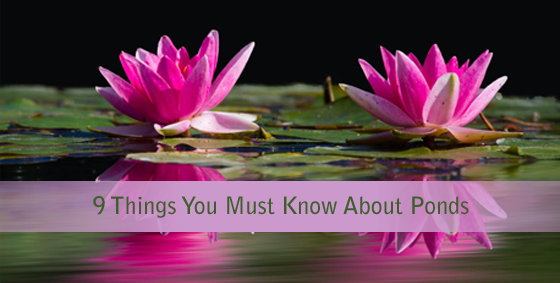 Are you looking to add a pond to your landscaping this summer? Here's nine things you need to know and do!
Just like most projects, you should start by planning. Check to be sure that the soil is stable enough to support a pond. Make certain that plants won't be able to cut a hole in the liner. If you're planning on having fish in the pond, you should choose a site with a good amount of sunlight.
Determine the depth. When you decide on what plants or animals will be in the pond, it will make it easy to determine its depth. It is important to make sure there is enough depth to allow the fish to hibernate during the winter.
Try a kit. The best way for beginners to install a pond is to buy a pond kit. It will come with all the necessary components needed to start the pond.
Chose a liner. The best to use is butyl rubber. This is a thicker liner which is better. Use carpet padding, which is think and contours nicely underneath the liner to protect against pebbles.
Add a waterfall! Water needs to be oxygenated. Adding a waterfall or fountain will help circulate the water and keep it oxygenated. By keeping the water circulating, you can keep algae at bay and prevent mosquitoes from breeding. Fish require the water to be oxygenated if they are living in the pond.
Chose an edging. You'll need to give the pond a proper edge to make it look as if it's always been a part of your yard. Try using an aluminum landscape edging like this one, and use natural rocks and plants to hide the edge of the liner.
Make a commitment to maintenance. Ponds are not maintenance free. A small pond is actually a lot more difficult to take care of than a larger one. The more water you have in the system, the more nature is able to take over and regulate. Fish need to be fed daily and pump filters need to be changed or cleaned.
Winterize the pond. You're not going to want to drain the pond because the rubber liner will dry out and crack. As long as the water stays moving, it most likely won't freeze solid. Fish can swim below the ice and remain there until spring.
Build a curb. You'll need to build a curb around the pond so the rain water won't cause it to overflow. If you don't and you get a heavy rain, the fish might end up on the lawn. Make sure the curb is at least two inches taller than the pond to force the water around.