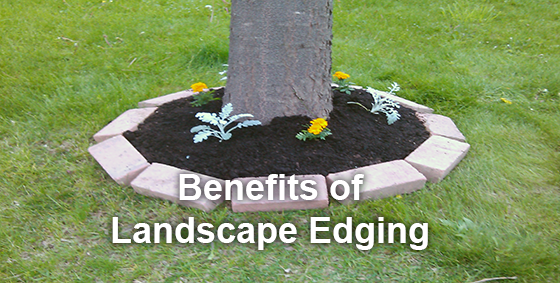 Lawn edging is a permanent divider between the lawn and another area in the yard, such as a flower border, play area or path. There are several different styles of lawn edging. For example, low-profile aluminum or flexible strips of faux rocks. Choose a style that compliments your house and yard.
Here's a quick review of the advantages of using of lawn edging:
1. Provides a neat, crisp border.
2. Stops turf grass from growing into flower beds and other areas.
3. Prevents flowering plants from growing into the lawn by providing a barrier for the plant roots.
4. Keeps mulch or other material such as gravel in place.
5. Defines different areas of the garden and enhances the overall design.
6. A visual barrier – can direct people to walk in certain areas and not others.
7. Draws attention to an attractive focal point such as a specimen tree or shrub, which can be surrounded by 'tree ring' lawn edging.
8. Stops weeds from growing into flower beds.
Lawn edging enhances curb appeal and reduces garden maintenance chores. It is a great resource for home owners, garden designers and landscape companies.