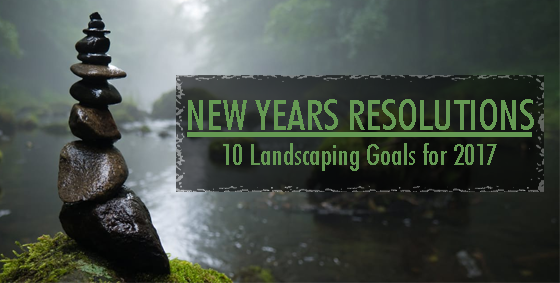 Happy New Year!
I'm sure your social media and emails have been blowing up with posts on New Years Resolutions.
Don't mind us as we jump on the bandwagon and add another one to your list!
Here's 10 New Years Resolutions for your landscaping!
1. Try something new.
Tired of the same old things? Here's five ways to update your space.
2. Think about Curb Appeal.
Who knew a little paint could make such a difference?
3. Be on top of your maintenance.
Mowing grass, cleaning gutters, and raking leaves… Each month comes with its own list of To-Dos.
4. Think out of the box.
Your backyard could be so much more than just a bit of grass. What about a butterfly sanctuary??
5. Focus on making experiences.
2016 focused on making your landscaping a destination rather than just something pretty to look at. Let's keep that trend going!
6. Keep up with the trends.
Speaking of trends… Here's what you have to look forward to for 2017!
7. Think Colors!
Your Fall and Winter don't have to be bleak and colorless!
8. Think about the environment.
Why should we only focus on this during earth day? Let's make everyday earth day!
9. Light it up!
Your landscaping should be able to be enjoyed no matter what time of day!
10. Consider Landscape Edging.
There's so many benefits to using landscape edging… And we're not just saying that!