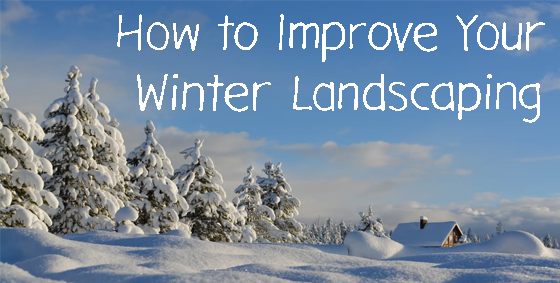 Once the snow covers the ground and everything outside, it can begin to look dreary… especially in January after the holiday directions are taken down. But this is the time where you should begin to think about what you can do to spruce up our landscaping for next winter.
Many photographers are very active in the winter because the bare trees against the winter landscape are an extraordinary sight. Things like an old farm fence on a country road or a large rock outcropping creates a certain appeal against the cold, white and grey colours of winter.
Here's what you can consider for your own winter landscaping.
Landscape Forms
Things like archways, fences, trees and hedges loose the colour and denseness as summer fades, but if they are placed right, it also helps protect the home from a build-up of snow. Large rocks are a great landscape feature as they become a thermal storage unit when the sun comes out. The heat keeps the snow away for hours which allows any coloring or form designs on the rocks are in view for most of the winter.
Lighting
The bare tree limbs of deciduous trees can be strung with mini-lights. Putting them up for Christmas does not mean taking them down in January. With the right colour of clear or colored lights (only one color) the trees take on a light of their own! You can apply this to any other structure in your landscaping – archways, hedges or fences. Rock formations an coniferous shrubs can be lit up with small or colored spotlights to create an enchanted scene in your backyard landscape. With the technology out there, you have the ability to program the lights change either by our or each every night!
Tree Forms
Outside of your common deciduous trees, there are vine-type trees that show off amazing shapes against the winter background that are hidden in the summer. Grape vines are also a great backdrop for lights!
Animals
Animals aren't really part of your landscaping, but they do complete your winter theme! By using bird feeders and berry bushes you can attract snow birds, squirrels, and other beautiful animals.
Plan a Winter Landscaping Project
Winter is the best time to plan and design your winter landscape for next year. Check out this blog post for a list of things to consider.