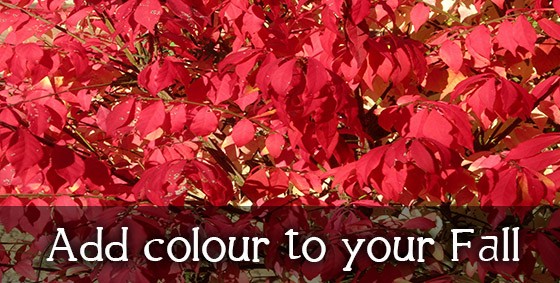 There are several shrubs which have beautiful foliage in the fall and are the right size for home gardens or yards. We're sharing our five favorites with you here.
Burning bush (Euonymus alatus)
This shrub is named for it's bright red leaves in the fall. It's easy to grow and does well in most soil types. Thrives in sun to partial shade. Full height is about 9′ it has an open rounded shape. USDA zones 4 – 8.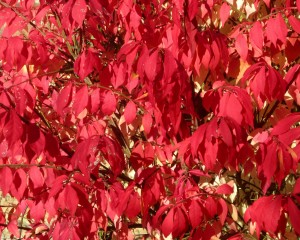 Spirea (Spirea)
There are several varieties of spirea so it's easy to choose the ideal size, leaf and flower. They are native to the US, very easy to grow and drought-tolerant once established. They do best in USDA zones 3-8.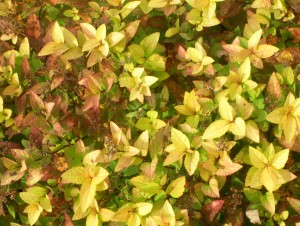 Korean Spice Viburnum (Viburnum carlesii)
Covered in intensely fragrant white flowers in the spring and beautiful red-yellow leaves in the fall. There are many cultivars that vary in height from 3′ to 10′. Grows best in full sun. USDA zones 5 – 8.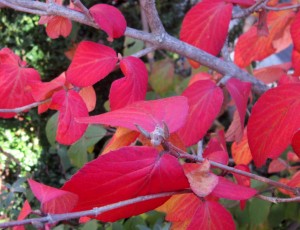 Ninebark (Physocarpus Coppertina)
Ninebark is grown primarily for its foliage color and decorative peeling bark. Foliage color varies from burgundy, yellow or red depending on the variety. They grow about 8′ to 10′ tall but can be kept smaller with pruning. Tolerates moist soil conditions. USDA zones 3-7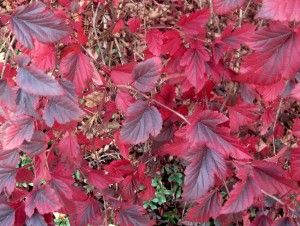 Oakleaf Hydrangea (Hydrangea quercifolia)
These shrubs vary in height from 4′ to 15′ depending on the cultivar. They have showy, large flowers and a long bloom time. Add to this the attractive fall foliage and you have a shrub which looks great all year. USDA zones 5-9.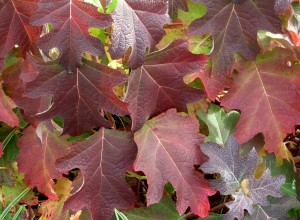 When summer flowers have gone, these shrubs will add a bright burst of color to your garden!