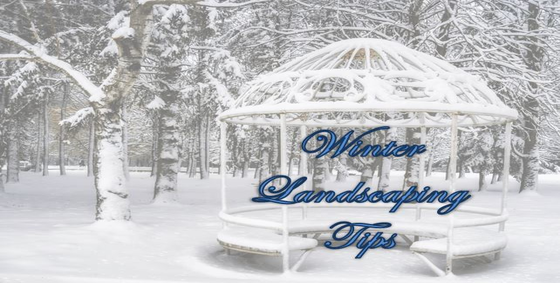 As the winter months approach us very quickly, the plants are asleep and their colors disperse, leaving a variety of shades of white and gray. It's too cold and icy to plant anything in the Winter, but with careful planning in the spring, summer, and fall, you can have a beautiful landscape that shines in the peaceful season. (Click to Tweet)
Here are six winter landscaping tips that will make you love your yard in every season.
Focus on bark. Deciduous trees lose their leaves in the wintertime, which leaves just their branches and trunks. Planting ornamental trees like dogwoods and birch trees, that have very distinctive texture and colour bark, will add some variety to your winter landscape.
Include berries. Many trees and shrubs have berries that stay throughout the fall and winter, which will provide food for birds. Some examples are crabapples or holly with berries can be very beautiful within the snow.
Don't forget evergreens. Evergreens are wonderful in the winter landscape for several reasons. The first is that they add colour: not just green, but some are yellow, blue and all the colours in between. These trees are not only important for your winter landscape, but they make good focal points all year round.
Rely on your hardscape. Winter is the best time to consider your hardscape. The solution to enhance your winter landscaping might not be a plant, but rather a trellis, a bench, an arbor or even a garden sculpture.
Embellish your summertime containers. Window boxes, hanging baskets and winter-safe containers are all essential for winter landscaping. You do not have to spend money on other plants, just fill the containers with evergreen boughs of different colours, textures and interesting twigs.
Stick with four-season perennials. There are some perennials that have evergreen shrubbery: ornamental grasses, hellebores, even dianthus with its beautiful low-creeping foliage. These are great for winter landscaping. Just make sure you read the plant label and find out if the plant has foliage in the winter, so you can enjoy it year round.