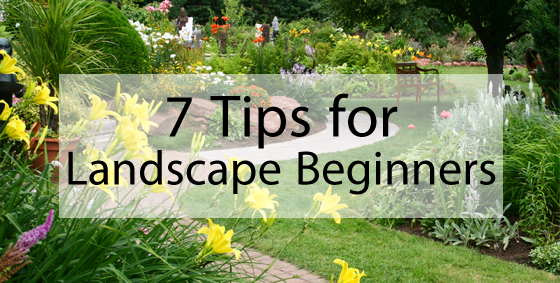 Whether you are completely new to landscaping, or you have some knowledge and are looking to refresh an outdoor area, here are seven useful tips to help you get started!
1. It can seem overwhelming if you've never tackled a landscaping project before, but the first step is to make a list of your needs and wants. Do you need a play space? Do you need to grow those vegetables? Beginning with a plan is the best way to ensure you stay on track!
2. Study the sun and wind patterns. If you decide you want to place a patio on the west side of the house, you should ensure the sun doesn't hit during the afternoon hours, otherwise summer dinners on the patio may be quite hot. Or perhaps you want to install a brand new fire pit. Make sure the wind doesn't blow in a certain direction to put out that cozy fire every time!
3. Live with it for a while. Don't jump to any conclusions before you observe and enjoy what is already there. There may be certain areas around your yard that you later will come to appreciate.
4. Start small! Landscaping is a process that takes time. Despite what those shows tell you, it doesn't happen overnight! Plus, you will have more time to enjoy your new projects, one by one.
5. Work around a focal point. Any good garden design has a focal point or series of focal points, and it's an easy principle to put in place in landscape design for beginners. There may be a beautiful sculpture or perhaps a stunning tree or plant that would make a great focal point for landscaping.
6. Focus on scale and pacing. You want to ensure that you repeat some elements (such as colour or shape) for cohesiveness.
7. Finally, be open to change! Perhaps that one landscaping job you did a year ago no longer looks good to you. Patience is the key to a beginner's landscaping design, and change is always a good thing!
You can start by ordering your products from YardProduct.com!