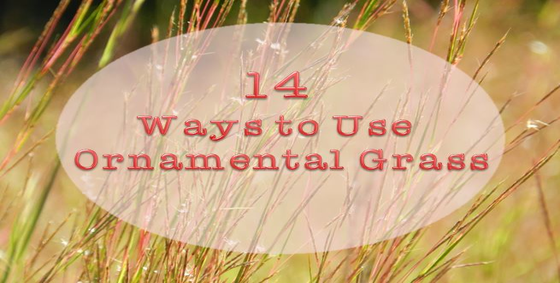 Ornamental grass can be used for many different things when it comes to landscaping. Today we are going to touch on the top 14 uses!
Add Privacy: Tall grasses bunched together can create a perfect solution for screening! For the best effects, chose tall species such as big bluestem, moor grass, or ravennagrass. Keep in mind that when you cut back ornamental grasses in the early spring, you won't have a screen for a month or two while your grasses are growing back.
Create Colourful Containers: Ornamental grass comes in many different shapes, colours, and sizes making them perfect for a container garden. To great the most dynamic effect with grasses then look for the unexpected! Try doing contrasting colours, textures, shapes and sizes.
Add texture to beds and borders: Ornamental grasses can add an unique texture to your landscape. Maximize your effect by planting many different grasses together. Soft grasses such as fountaingrass look great with other plants that have a bold texture. Grasses that are more upright go well with smaller, more mounded plants.
Soften Hardscaping: Hardscapes such as walls and paving are a great place to use ornamental grasses to soften their looks and keep them from feeling icy and unappealing. Planting grasses around a swimming pool are a great idea because they do not attract bees.
Dress up Decks and Patios: Ornamental grasses aren't just for beds and borders of your landscape. Grow them in containers and add a little character to your decks and patios. Use annual or tender grasses so you do not have to replace them in the spring.
Plant a Knot Garden: Herbs and tidy hedges such as boxwood make great geometric knot gardens. Tight, mounding grasses work best in knot gardens. Avoid using grasses that are too loose and open. They will make the knot garden look and feel messy.
Add a Garden Accent: Grasses can be added to create a great accent plant for beds and borders. Tuck grasses around your landscape and by using the same grass in several different parts of garden will help tie your garden together.
Cover your ground: Low-growing or mid-size grasses are great at ground covering. They do a great job at smothering weeds while at the same time creating an interesting texture for your landscape. Dense habitual grasses like mounding grasses often make better ground covers.
Create Edging: Edge your garden beds with a tiny life of neat grasses. Edging with grass works best if you plant them close together (closer than usual) so the grasses grow together in one line.
Make it all season: Grasses really stand out at the end of the season as most annuals and perennials look worn. Not to mention the fact that they have great fall colour!
Two is always better than one: Plant your grasses in pairs to maximize the effect. To create a more formal feel, plant the grasses in symmetrical patterns.
Attract Wildlife: Grasses will attract different wildlife like birds. They can use the grass for making nests, finding shelter and many species will also eat the grass seeds.
Decorate your Vegetable Garden: Ornamental grasses are not only for your landscape. Try tucking them into your vegetable garden. Clump-forming grasses are the best choice for vegetable gardens. Just be careful not to plant grasses that will become more weed-like as they spread.
Create some Garden Art: Your favourite ornamental grasses will complement a sculpture or pot within your garden. This type of design will look great all year long. Play with different plant and art combinations to find what works best for you.
Do you have any other ideas on how to use ornamental grasses in your landscape? Share them in the comments below!