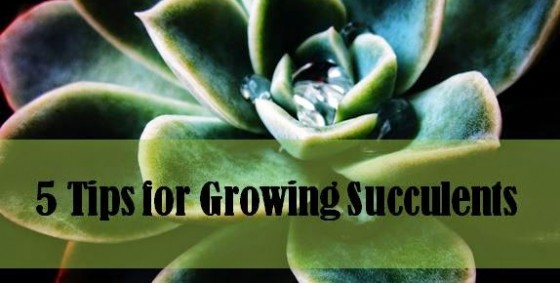 Succulents are great plants to grow inside and out. Not only are they easy to maintain, but they have a fun modern look as well! If you are looking for a way to add some nature to your home, take a look at these five tips for growing succulents like a pro!
Look for the light!
Succulents need lots of light, so try placing or planting them on the south for  exceptional sun and warmth. If the leaves begin to change colour and turn brown or white, then it's time to move them somewhere with less sun as it can be too overpowering.
Don't worry about the temperature.
Succulents can grow in temperatures anywhere between 50 and 90 degress. As long as they are given time to slowly adjust to the environment, they will flourish. So don't worry about the temperature as long as you give your plants to gradually adjust to it.
Don't let them get thirsty!
During the summer months, succulents need more water due to the warm weather. Although the soil should never be soaked, it should stay damp. During the colder months, the plant will slowdown in growth and won't require as much water. You can even cut the watering down to half!
Choose superior soil.
Make sure the soil you choose is designed specifically for cacti. Succulents will thrive in this soil as it fast draining and helps the root system. This type of soil will give your plants the nutrients it needs!
Only fertilize in the warmer months.
You can fertilize your succulents like you would any other houseplant during the summer months. These plants do not need fertilization during the winter months though, as your succulents are in "hibernation" and do not need the extra nutrients.
Growing succulents is very easy and even more enjoyable (Click to Tweet). They require a bit more care in the summer months, but they are pretty low maintenance during the winter months. These tips can work for growing succulents inside or out! Give it a try and see how easy it is to grow your own succulents!