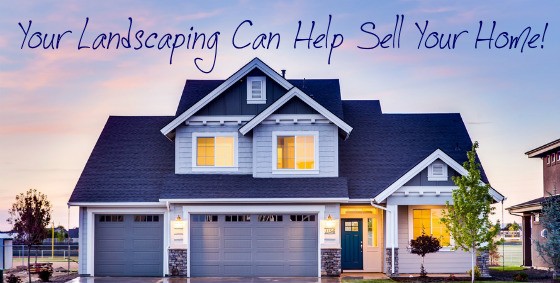 Putting your home on the market can be a stressful situation. There are so many factors that can influence the selling process. How long will it take? Will you get your desired price? Is there anything that might help you sell your home?
While getting the answers to these questions can be difficult, there is definitely something you can do to help sell your home. The landscape of a home is something most homeowners forget to focus on when putting their home on the market. While cleaning and doing renovations in the inside might be critical, it's the lawn that will give the first impression to a potential buyer.
So if you're house is on the market, a call to a landscaping company might need to be your first call. Here's why…
Curb Appeal
Potential home buyers love to drive around and find homes on the market. A sure way to make sure they don't pass your home without giving it a second thought is to have a well-designed and maintained landscape. This is one of those times where the saying "you can't judge a book by its cover" is actually untrue. When it comes to buying a home, you can't help but make a judgement from what you see from the outside. If someone does not take care of their lawn, it is easy to conclude that they do not take care of the inside either.
Needed Proof
Buying a home is one of the biggest purchases you will make in your life. It is crucial that you are making a smart purchase. This means ensuring that the previous home owners have been taking care of the upkeep of the home.  Seeing a home with a neglected home can only cause someone to believe this to be consistent throughout the entire home, even if that might not be the case.
The Digital Effect
With all the online resources available on the internet, homeowners have access to thousands of their potential homes. It is easy to find homes that meet their criteria and skip those that don't. When listing your home for sale online, an adequate amount of pictures is usually required. It would be in your best interest to include pictures of the outside of your home and the landscape as potential buyers want to see every part of the home. If they don't like what they see from the outside, they could scroll right past your home and go on to the next. A well maintained landscape might be what causes them to look into your home further!