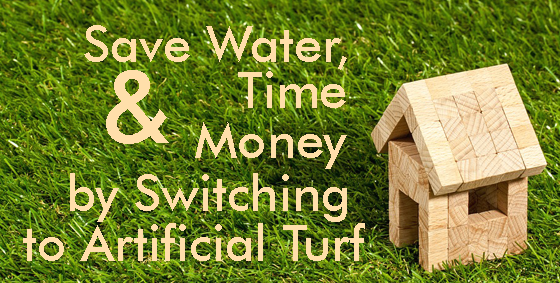 Lawn care and maintenance has turned into a major issue in communities that are facing water shortages. Today, droughts, increased populations and water waste have led to a serious need for increased efforts toward conservation. Unfortunately, water restrictions and increased utility rates have led to brown, unsightly lawns that ruin the beautiful aesthetics of neighborhoods and businesses. While it may be tempting to keep watering surreptitiously even with restrictions in place, there are far more effective ways to enjoy a green lawn while protecting the environment. Artificial grass makes it possible to save water, and enjoy these benefits for transforming your landscaping plan into one that saves time, money and natural resources.
Ditch the Sprinklers
Most people use sprinklers and other types of irrigation systems in their landscaping routines. While these are effective for hydrating the soil and plants, they also pose major headaches for conserving water. Sprinkler systems are notorious for leaks that waste water and your money. They also tend to be ineffective when sprinkler heads become clogged or require repair. With artificial grass, watering is no longer a worry. This allows you to get rid of your ineffective watering system and save water and money in the process.
Eliminate Toxins in the Land and Air
Water conservation is only one aspect of caring for the environment. While your natural lawn does provide some benefits for the air quality such as promoting more oxygen, the processes involved in its maintenance tend to cancel that out. Your lawn equipment wastes fuel and spews toxic exhaust into the air. Natural grass also contains pollen and other allergens that contribute to respiratory illnesses in those who are sensitive. Fertilizers, weed killers and pesticides also contain toxic chemicals that ruin other plant life while contributing to run off that goes into the community's water supply.
Revitalize Your Budget
When you make the decision to focus on saving water, you also gain the opportunity to capitalize on your efforts by saving money. It does not matter whether you mow your yard yourself or contract with a lawn service because both of these methods cost major money over the long run just to keep your landscape green. Lawn care chemicals and equipment are expensive, and you waste valuable dollars every year trying to keep your lawn seeded and trimmed. While artificial turf will require a slightly larger initial investment, it lasts over ten years. This allows you to save more money over time on your utility bills as well as your lawn care.
Redirect Your Time to What Matters
In a world where productivity is everything, it is important to assess how you spend your time. You could spend hours every weekend making sure your lawn is maintained, or you could dedicate that time to other efforts such as volunteering in your community to preserve the environment. Artificial grass can be installed in as little as one day. After that, your time is yours again to spend doing things that truly matter to you.
According to eNature, just a 1,000 square foot lawn will require more than 10,000 gallons of water for just one summer to keep that perfectly green appearance. This adds up to a huge burden on the environment as well as your pocketbook. Make the switch to artificial turf today, and reduce your watering needs to almost nothing since the synthetic blades will stay green year round without excessive watering.