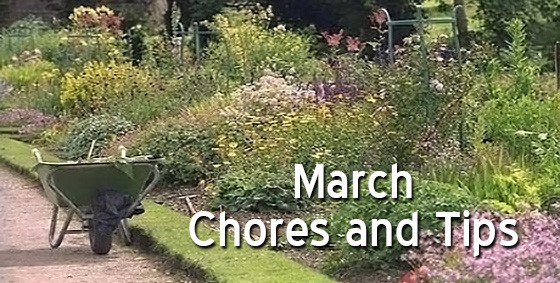 We cannot believe it is already March! Time just flies by! Here's some chores and things that you'll want to make sure happen during the month.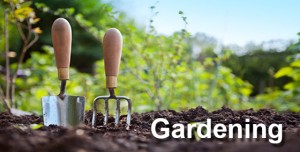 If you're still receiving snow, be sure to shovel and brush off the snow from any raised bed covers.
Onto warmer thoughts… Prep any new garden beds as the weather permits.
If the soil is workable, add compost and any other soil amendments as needed.
Make sure to fertilize plants that are starting to grow actively.
Be sure not to plow your garden while the soil is wet, as it will form clumps that are difficult to break up. This will interfere with the cultivation during the summer months.
If there are weeds in your bulb beds, be sure remove them by hand so the bulbs and roots will not be disturbed.
Spring is a great time to renew and add more variety to your landscape… Buy some new perennials for your flower border.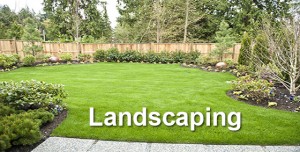 When buying bare-root trees, look for the ones with the largest root system in relation to top growth. It is not necessary to purchase a larger tree to get a quality plant.
Dig, divide and replant crowded summer and fall flowering perennials.
Plant your spring flowering annuals.
Prune your shrubs and ornamental trees before the growing starts (except for the spring flowering shrubs – prune those as soon as they finish flowering.
Early spring is the perfect time for these turf treatments – if needed. Special equipment is available for each operation… Consult a lawn-care specialist or rent the equipment and do it yourself!

Vertical cutting or thinning to remove thatch and aerification
Or coring to reduce soil compaction.

As the nice spring weather approaches, it is a perfect time for repositioning stepping stones that have heaved or snuck below grass level. Do this by lifting them, spreading sand in the low areas and replacing the rocks. A bed of sand under the stones will allow for better drainage and decrease the sinking for next year.
If you built and birdhouse in the winter, now is the time to put them out. The birds will begin looking for nesting sites very soon.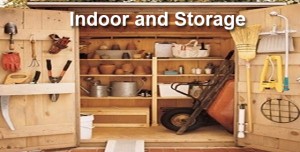 Start more seeds growing inside.
Keep an eye on your indoor transplants and make sure they're happy and healthy!
Repot any houseplants that have grown too large for their containers. Cut back leggy plants to encourage compact growth. To increase your supply of plants, root the cuttings in moist soil.
Protect yourself and the blade of your pruning saw during storage by making a cover using a piece of old garden hose the same length of the blade. Cut the hose lengthwise on one side and place over the saw blade.
If you haven't already, check your stored tools and outdoor furniture for signs of rust. Remove any surface rust with steel wool and pain with rust inhibitive paint.