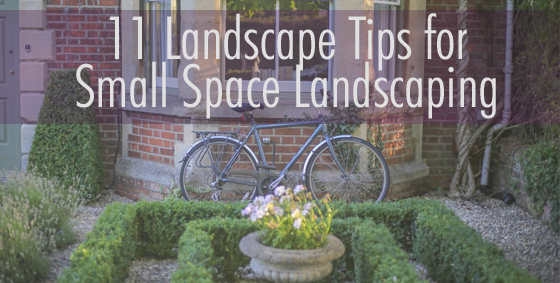 Go Vertical
Make gardens look larger than they actually are by adding trellis or arbor. These structures help draw the eye upward, creating the illusion of more space.
Grow Some Privacy
Keep privacy in mind as you design your small landscape. No one wants the neighbors looking over their shoulder as they relax outdoors. A fence or a screen to shield the view is essential; but don't leave it at that! Grow something over the structure to add color and dimension.
Start from the Ground Up
Add some style to the small spaces by mixing complementary paving materials together. Besides adding color and style, the stones also create a sense of space that wouldn't be possible if it was just a solid stone patio.
Divide and Conquer
The trick to gardening in a small yard is breaking up the available space into a series of mini beds rather than trying to squeeze in one large border. Brick pathways can be used to create a series of litter perennial borders around each of the brick pillars. Smaller beds allow easier access for weeding and planting.
Make It Cozy
Creating escape nooks for reading and resting are a good small backyard idea for dividing up the space and creating specific zones.
Add Color
The bolder the better when it comes to landscapes. A once-drab wall can be made much more impressive simply by being painted an eye-popping colour.
Keep Plants Vertical, Not Horizontal
Horizontal space is valuable in many small backyards. This is why it's good to look for greenery that max out interest as they grow up, not out.
Conquer Dead Landscape Nooks
It's easy to ignore the areas that don't get a lot of immediate or street side view. Turn these spots into unexpected focal points. Try using a centerpiece tree, an oversize container, and flowers and foliage plants for interest.
Use the Power of Perspective
Long, straight lines trick you into thinking that your small yard or garden landscape is bigger than it is. Take full advantage of this illusion by adding a subtle slant the far ends of the lines toward one another and create another focal point.
Just Add Water
The smallest landscape can be improved by the mellow sound of trickling water. If you don't have enough space for a water garden, try adding a fountain (or two) in the key locations of the yard.
Select Seating
Keep comfort in mind when choosing seating for your backyard. No one likes sitting on a teetering metal chair… no matter how pretty your landscaping is. Look for furniture with deep seating and wide arms that invite guests to sit and chat a while.