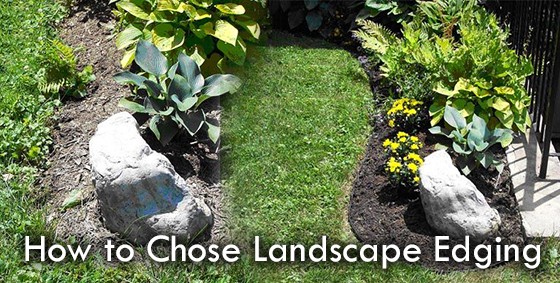 Lawn edging is a physical barrier between the lawn and another area such as flower bed, path or driveway. Lawn edging provides a neat lawn edge and prevents grass roots growing into flower beds or over pavers. It also keeps plants, soil and mulch in place. In addition, landscape edging helps define walkways so that people are discouraged from walking over flower beds.
In addition to providing a neat appearance, garden edging can be real time-saver. There is no need to manually cut the edge of the lawn with an 'edger' tool, a task that must to be repeated as the lawn grows throughout the season. Lawn edging reduces the need for weeding and stops soil and mulch washing out of the flower beds due to rain or snow.
There are many different styles of lawn edging so it's easy to choose a style that suits your garden or yard.
Aluminum Lawn Edging
This edging is does not rot and is rust proof so it lasts a long time. Because it is flexible, it so can be used for curved or straight lines. Compared to wood or stone edging, aluminum edging is light weight. Stakes are built into the edging and are used to anchor the edging in the ground, so it is easier to place and maintain than other types of edging which require trenches to be dug during installation. The design of 'Dreamscape Aluminum lawn edging' is low-profile, simple and clean, so it suits mid century or modern style yards and gardens, but also blends in with traditional styles.
Stone Edging
Natural stone edging is expensive, heavy and time-consuming to install. A great alternative to natural stone is Dreamscape's Decorative 'Stone' edging. It is made out of lightweight, durable vinyl that has the appearance of stone. It is a surface edging which means it sits on top of the soil, so there is no need to dig a trench. This edging comes in interlocking pieces which will fit any shape, curve or straight line. The edging can be used to anchor landscape fabric in place, for example in a kid's playground where the landscape fabric will be covered in mulch. The natural appearance of stone edging makes it perfect for 'natural' landscapes and traditional styles.
Sta-Right Edging
This edging by Dreamscape is made from recycled plastic and is 'L' shaped, with a horizontal edge that is installed flat on the ground and a vertical edge that abuts the lawn. Because of this construction it is very versatile and can be used as lawn edging, edging for beds and as a paver restraint for walkways, patios and driveways, where it will keep pavers in place. The unobtrusive appearance of this edging blends enables it to fit in with any style of yard or garden.
With so many different landscape edging styles available, there are plenty of options to choose from. Things to consider are; ease of installation, durability, the appearance of your yard or garden, your budget and access to customer support/instructions. If the plastic edging is made from recycled plastic, that's another plus. It's well worth making the investment in lawn edging because it will increase your yards curb appeal and reduce the amount of time needed for garden maintenance.