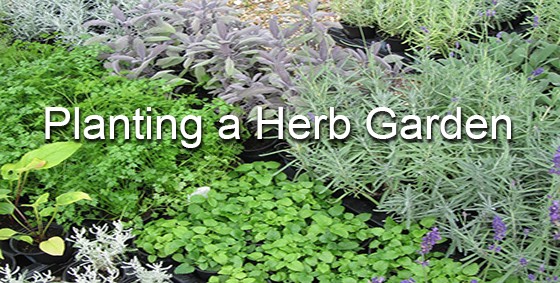 It's January and many of us (including me) have made new year's resolutions to become more fit and healthy in 2016. Reducing stress, getting more exercise, eating less salt and eating more fresh produce are all great goals. So how can gardening help maintain these goals? Well, an herb garden is a good place to start. Fresh herbs are a great substitute for salt and adding them to salads and vegetable dishes makes fresh produce so much more appetizing – love the flavors and textures of freshly-picked herbs! A small outdoor herb garden is very manageable and provides moderate exercise without backbreaking work.
Studies have shown that gardening reduces stress. There's a sense of accomplishment when home-grown herbs are picked and used straight from the garden. Additionally herbs are full of vitamins and if you grow your own, you can avoid pesticides and herbicides. All very positive, so how do I start an herb garden? Well, January is a good time to start, take a look at the garden plant catalogs and start researching and choosing your herbs. You can order seeds and start your own plants or, later in the spring, buy small seedlings from garden centers to transplant into your garden.
After the last frost date, select a spot in your yard that is fairly flat and gets about 6 hours of sun, this would be considered a full-sun location. (most herbs thrive in a sunny location, but many will tolerate part-shade). Plan the size of your herb bed based on the quantity of plants and how big the plants grow. It's a good idea to get the soil tested and then add any amendments to improve the soil. To define the edge of the herb bed and to contain the soil, mulch and plants, consider adding lawn edging – choose a style that suits your garden aesthetic.
Some herbs such as mint and tarragon have underground roots that spread quickly and grow all over other plants. This can become a problem requiring the mint or tarragon to be dug up, including all the roots – a chore no one wants to do. To avoid this, mint or tarragon are often planted in tubs or large pots. If they are planted in the ground, they can be encircled with lawn edging or a bottomless bucket that will contain the roots and stop them spreading.
Here's a selection of easy-to-grow, delicious herbs and their uses
Mint. There are many different varieties of mint, each with its own flavor and fragrance. It grows well in semi-shade. Mint gives a kick to a green salad and a refreshing zest to iced-tea. And of course we mustn't forget that summer beverage – the Mint Julip!
Chamomile. This herb makes the classic, relaxing chamomile tea. The tea is made from the flowers, use them fresh in the summer and dry them for winter use. This tea is a great, natural stress-reliever. Chamomile and mint are a great combination for a tea.
Chives. These plants have a very mild onion flavor and are tasty when sprinkled on salads, eggs and potatoes. They have attractive pink, edible flowers in late summer that can be used as a garnish. Garlic chives have a slight garlic taste.
Parsley. You can choose curly or flat-leaf varieties of parsley. This is an all-round useful herb that can be added to soups, stews and quiches. Also nice sprinkled on fish, meat and vegetables.
Borage. This herb has the most beautiful tiny, blue, edible flowers. They look so pretty floating in summer drinks such as lemonade or punch. A must-have when making Pimm's – the summer drink loved by the English horse-racing set. If you are interested in encouraging bees, this is the ideal plant – bees love the flowers.
Cilantro. This tasty herb is used in Mexican cuisine and it's fun to snip the leaves, chop them and add them to salsa or guacamole. Also used in Indian dishes.
Basil. To me, summer isn't summer without fresh basil. There are many varieties of basil, with different leaf-colors and flavors. This is another very versatile herb that can be used in many different dishes including italian-style tomato sauces.
Summer Savory. This is one of my personal favorites, it has a subtle, smoky flavor and I use it in place of any other herb. Very easy to grow and pollinating insects adore the tiny flowers.
Starting a herb garden need not be a major challenge if you restrict yourself to a few herbs you'll use most. If you don't have a yard that's not a problem, many herbs do fine in pots or in window boxes. Finally this is a great way to introduce kids to the process of gardening, harvesting and cooking. Here's to keeping those resolutions in 2016!