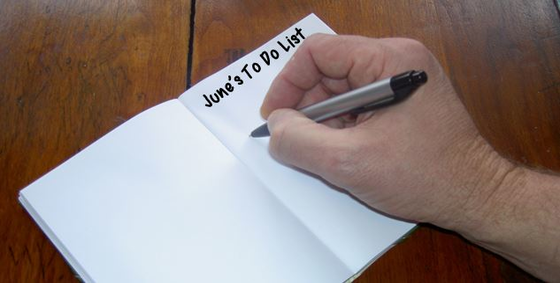 The month of June is halfway gone already and it seems like it just started! Here's your June to-do list to help you makeup for list time!
Fruit & Vegetable Gardens
Plant your fruit and vegetables that love warm weather (ie. corn, peppers, zucchini and squash, and basil).
By planting your bush beans, summer lettuce and corn in intervals will spread out the harvest over several weeks.
Harvest your beets, carrots, lettuce and chard.
Keep your tomatoes staked, pruning the lower branches as needed to keep air flowing and discourage blights. You can also stake other needed plants including peppers and brussels sprouts.
Hill up potatoes two – three times before letting them mature.
Sow your seeds for your fall garden (ie. Brussels sprouts, long-maturing cabbage, rutabagas and turnips).
Watch your fruit trees for any insects or diseases, and treat as needed.
Thin your apples, pears and peaches when the fruit is the size of a nickel.
Train your grapevines as needed and prune as needed.
Harvest your strawberries and other berries as they ripen.
Keep your garden beds weed free.
Flower Gardens
Fertilize your roses and dahlias.
Stake tall flowers as needed before they get too big and fall over.
Divide you early blooming perennials as needed. If you do it this month, make sure to water it well until they're established.
Trim and remove any dying foliage from your spring bulbs. Now would be the time to move any that you would like.
Remove seed pods from your rhododendrons and azaleas and prune your other spring blooming shrubs.
Watch for signs of mildew, black spots or rust and treat if necessary.
Other Chores
Fertilize your lawn for a second time if needed. Keep watering and mowing as well.
Put out bait for slugs and snails if that is a potential issue.
Trim your hedges mid-month.
Start your watering cycle, soaking beds with soakers or drip systems every five days. Raised beds every four to five days in warm, dry weather.